Last week, I enjoyed another amazing meal at Café My House, a local gem of a restaurant that I love. If you live in Ottawa or ever plan on visiting Ottawa, GO TO THIS RESTAURANT. You will not be sorry. They specialize in plant-based, gluten-free fare but if you don't follow a vegan or gluten-free diet, you will still love it. I have brought meat/wheat-loving friends to this restaurant and Café My House will forever have fans in them. It's THAT good.
Anyways.
Before each meal, the server brings out an amuse-bouche. During this particular visit, it was "holiday-spiced almonds." Sadly (or happily?) I inhaled them so fast, I didn't have time to savour and try to figure out what those holiday spices were, exactly. There was a lot going on, lots of flavours dancing around, but I seriously do not remember much about them. Just that they were really good.
So this recipe for Maple Spiced Almonds was inspired by that amuse-bouche.
The spice mixes for these almonds are limitless. You can go salty and sweet, sweet and spicy, smoky and sweet, just salty, just sweet…whatever you feel like. You can even go try a different nut other than almonds.
My Maple Spiced Almonds recipe has a lot less going on in the spice combo department than the almonds from Café My House, but they're still delicious. Next time I visit, I'll be sure to take the time to savour!
Click here for more quick, easy, and delicious snack recipes!
How to Make Maple Spiced Almonds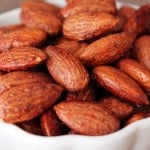 Print Recipe
Maple Spiced Almonds
Maple Spiced Almonds are a quick, easy, and delicious recipe to throw together for snacks or for when you'll be entertaining guests!
Servings:
8
(1/4 cup each serving)
Instructions
Pre-heat oven to 325°F

Combine maple syrup, cinnamon, nutmeg and salt together. Whisk well so spices are incorporated well into the syrup.

Pour over almonds and stir. Make sure all almonds are coated well.

Place in a single layer on a parchment-lined baking sheet.

Bake for 20 minutes.

Remove from oven and let cool on sheet.

When cool, put into an air-tight container.
Nutrition Info:
Serving:
21
g
|
Calories:
238
kcal