It has become an annual tradition for my family to visit the Canadian Tulip Festival each May. It's a visit we all look forward to, not only because it means the warmer weather has finally arrived, it also means that we get to take in another event in our beautiful Ottawa.
I love the story behind how the festival (the largest tulip festival in the world!) came to be, you can read all about it here.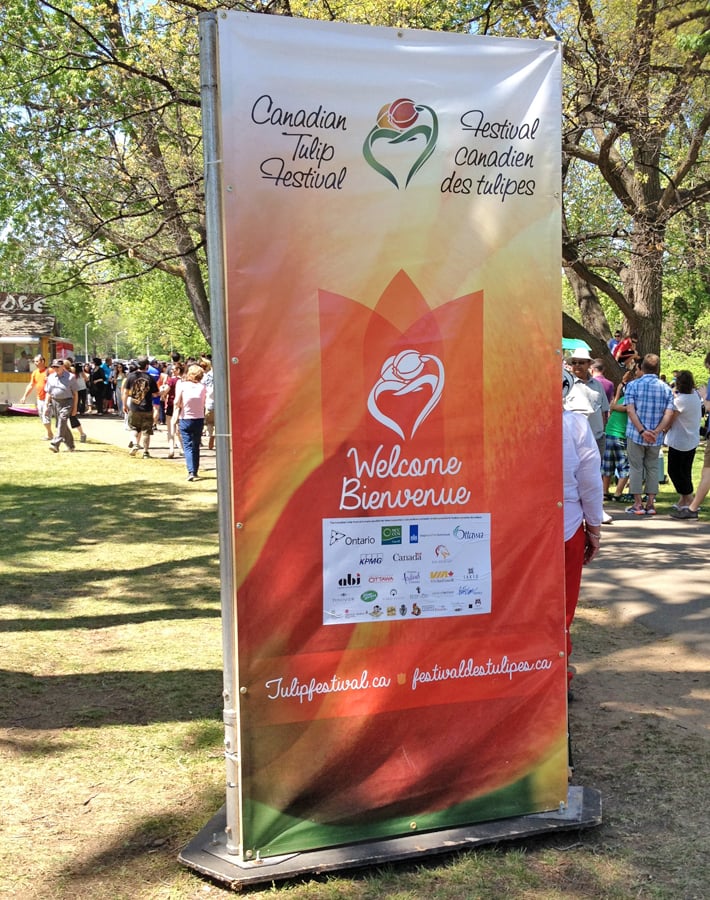 This year, we were not able to make it out to the festival until the tail end, on Victoria Day, so the tulips we sadly not at their peak (they were on their way out, some were already gone), and because we visited on a holiday, the crowd level was quite high. But, it was a still a beautiful day, and the tulips that remained were still a sight to see.
Plan your visit to the Canadian Tulip Festival in Ottawa so it falls close to the beginning of the festival or mid-festival while the tulips are still at their peak. As you can see, these tulips were not at their peak because of our late visit (still pretty, though!).
Plan your visit earlier in the day to beat the crowds, this is an event people from around the world come to see, so it can get quite busy. (500,000 visitors each year!)
Keep in mind that parking is a big issue at the festival sites, so take public transit like we do if you can (your kids will love this part!).
What should you expect when you visit the Canadian Tulip Festival in Ottawa?
Depending on which site you visit (there are 5 around the city), each area is a little different. We always visit the main site, Commissioners Park, which is on the banks of Dows Lake and is home to 300,000 tulips.
Each year, the events taking place in and around the festival sites differ, so be sure to check out their website to help you plan your day.
There are fireworks, activities for the kids, workshops, music, performances, tulip art, and of course, thousands of pretty tulips in all colours (and painted tulip sculptures everywhere too!).
And what would a festival be without food? There are carts sprinkled throughout the sites (cold treats, popcorn, lemonade) but at the site we visit, Commissioners Park, there is a dedicated area for food trucks. *Drool*
Of course, in the mix, there is always a Beavertail truck, and it is our tradition to always get one. This is one of the highlights of these visits for my kids!
For those of you not familiar with Beavertails, don't be scared, they are NOT actual "Beaver Tails." They are a deep fried pastry coated in cinnamon and sugar. It's a total Canadian thing. If you ever visit, it's a must-try!
Just like our annual trip to the sugar bush, we make it a point to see the tulips each year (we're going on 10 years!). If you live in Ottawa and have never been to the Canadian Tulip Festival or if you plan on visiting the area during May, you will enjoy this event and all the sights and attractions it offers. It's a nice family outing that will create memories, another reason why we look forward to its return each year.
Have you been to the Canadian Tulip Festival in Ottawa? What did you think? If you haven't been, would you like to visit sometime?