Growing up, picking strawberries with my family each July was a tradition. From as early as I can remember, it was just a regular thing we did once school was out and the summer rolled around.
The berry farm we visited each year was Patterson's Berry Farm in Edwards, Ontario, just outside of Ottawa. Those of us who have been to pick berries know the old joke about being glad they don't not weigh you before you went in and when you are leaving. Because when you pick berries, there must always be some mandatory sampling, right? (a lot of mandatory sampling…sometimes?)
After picking several baskets of berries, we'd visit the little restaurant on site and have strawberry shortcake and then play at the onsite park before the ride home. Once home, my mom would separate them into 3 groups: 1 group for making recipes, 1 group to freeze, and the last group for eating over the next few days. Ahh, sweet strawberry bliss.
If you are looking to do some berry picking in Ottawa, you have a large amount of farms to choose from. We're lucky! No matter where you are in the city, there is a farm close by. For us, Proulx Maple & Berry Farm (the same place we visit during maple season) is the closest, so this is where we went for our strawberry picking outing this summer.
At first glance, it may not look like much when you first see the strawberry fields:
But when you get closer to the rows of strawberry berry plants, you will see the red gems of sweetness hiding under the leaves, waiting to be picked: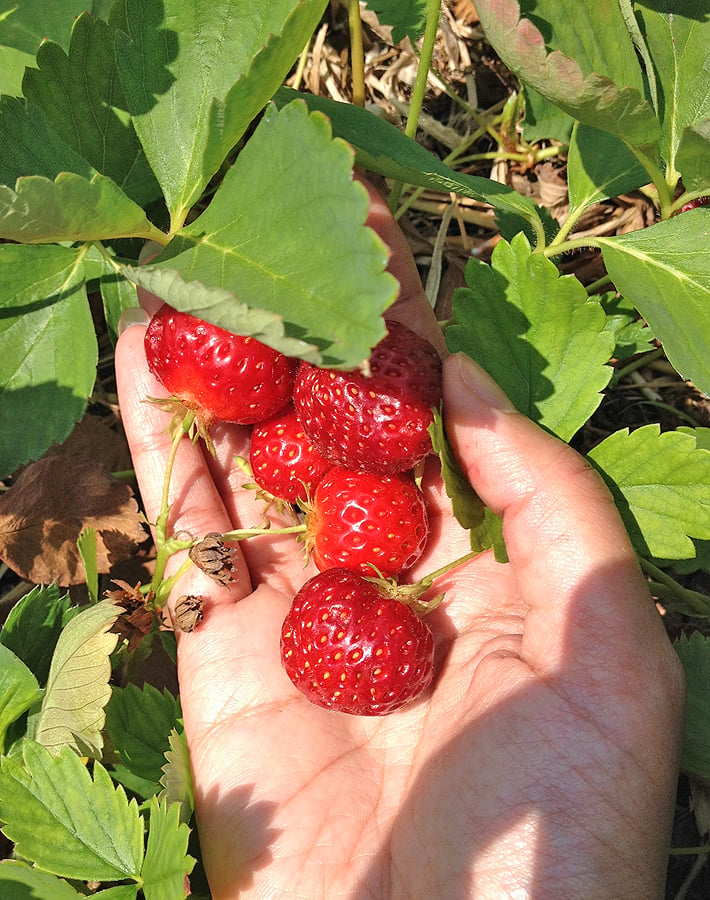 Each berry farm is different but if you do go to Proulx Maple & Berry Farm, here is…
There is a $2 admission per person, but this charge is refunded when you pay for your berries.
You may bring your own containers to fill with strawberries. They will be weighed when you arrive and the weight will be recorded and deducted when you return with the filled containers.
You can also buy baskets at Proulx. There are several sizes and are $1 each. If you do buy baskets, save them for future visits.
Tractors take you back and forth to the berry field. They come and go frequently, so you never have to wait long for the next one.
The rows are monitored to be sure you are not picking in an area that was just picked. You will always get an area with full, ripe berries.
After you pick and return to the main area by tractor, your baskets are weighed and you pay.
There are many play structures, slides, and a life-sized maze for the kids. They will love it.
Depending on the weather pattern, strawberry season in Ottawa runs from approximately the end of June to mid-July, so time your visit appropriately and don't wait so long that you miss out.
Call ahead or visit the website of the berry farm you plan on visiting to get an idea of what to expect and to see if the strawberries are ideal for the day you plan on visiting.
Visit early in the day to beat the heat and the crowds.
Bring your own baskets/containers. See note above in the "what to expect" section.
Wear a hat, sunglasses, and sunscreen. The sun gets hot when you are berry picking!
Pick the reddest berries, don't pick green berries or berries that have not fully ripened. Strawberries do not continue to ripen (like peaches or avocados, for example) after they are picked.
When you get home, use these tips so your berries stay as fresh as possible until you are ready to use them.
We picked 2 baskets on our recent visit, so now that we have 8 litres of fresh strawberries, it's to the drawing board to decide what recipes I want to make!
Here is an easy one you can start with:
Have you been berry picking? Other than the sampling and the delicious recipes that come from the fresh berries, what is your favourite part?
Note: This post was not sponsored in any way. I just love berry picking and sharing parts of Ottawa with you in this space so you can get ideas for your activities and visits!