Ford of Canada loaned me a Ford Fusion Sport for a week and covered the cost for my family to visit Saunders Farm for the day. All of my opinions about the Ford Fusion Sport and Saunders Farm are my own.
Time flies when you're having fun which means our summer has been flying by way too fast. Summer with my kids is all about maximizing the fun. After all, they're only little once. With that in mind, we fill our summers with at-home fun, visiting local attractions, if we're lucky, a big trip sometimes caps the summer off, and we always include a few close-to-home road trips. A recent one was to Saunders Farm.
But let's back up a bit so I can tell you a little about how the visit came to be.
Saunders Farm has been on our list of places to visit for quite a while. But for whatever reason, we hadn't been able to cross it off the list. Then, Ford of Canada happened to get in touch to ask if I wanted to have a "family fun adventure in comfort and style with the all-new Fusion Sport." I said yes, because we're all for summer fun, and who could say no the chance to drive this beauty for a week?
Because of my job, I've been lucky to have the chance to do many cool things over the years. I've worked with a few other car manufacturers and did a little work with Ford a while back, but I had never driven one of their cars. The Ford Fusion Sport was the perfect one to start with. Not only did I love driving it, my family loved being passengers in it. It's the perfect car for someone who wants something a little sporty but needs to have a family car. This car checks both of those boxes. It's roomy, SO comfortable (two things you may not associate with a car that has the word "sport" in its name), it's filled with safety features, and equipped with tons of cool tech.
One of those cool tech features that stands out when you first get into the driver's seat, is this rotary gear shift dial. It took a little while to get used to, but after a few drives, it became second nature.
And to touch on some of the tech it comes with: pothole detection, rear view camera, start/stop technology, pedestrian detection, pre-collision detection, park assist…and a whole lot more. It also comes equipped with SYNC3 voice-activated navigation. It's all accessible through the touch screen:
Oh, the things SYNC3 can do! It can help you navigate to your destination, which was helpful since we had never been to Saunders Farm. Navigation can be controlled with your voice, and once you connect it to your smartphone, more possibilities open up, such as controlling your music by voice.
So, that is a little snapshot of the luxury we enjoyed for a week while we had the Ford Fusion. Our week with it went by way too quickly.
We could have chosen anywhere for our family fun adventure, but we decided to finally visit Saunders Farm. After the day we spent there, my youngest proclaimed "mommy, that was the best day of the summer so far." I think it was a good decision 🙂
For those who aren't familiar, Saunders Farm is about a 50-minute drive outside Ottawa. It was a beautiful, countryside drive up there. And of course, driving the Fusion Sport made it even more enjoyable.
The day we chose to go was perfect. The weather wasn't too hot or too cool and we didn't have anything to rush back to the city for. So we took our time taking everything in. When we first arrived, one of the first things we did was take a turn on the huge bouncy pillows. They're basically giant trampolines!
Despite the amount of people you see above, the day was very tranquil. This was a summer camp that had arrived as we were getting ready to wrap up our day. The time we spent there was quiet, not busy, and so nice to enjoy a slower change of pace.
Throughout Saunders Farm, you'll find many fun tree houses and play structures:
And the Witch Mountain Slide:
All of us went down the slide (a few times!) 🙂
There are also pedal carts, hayride tours, and a splash pad: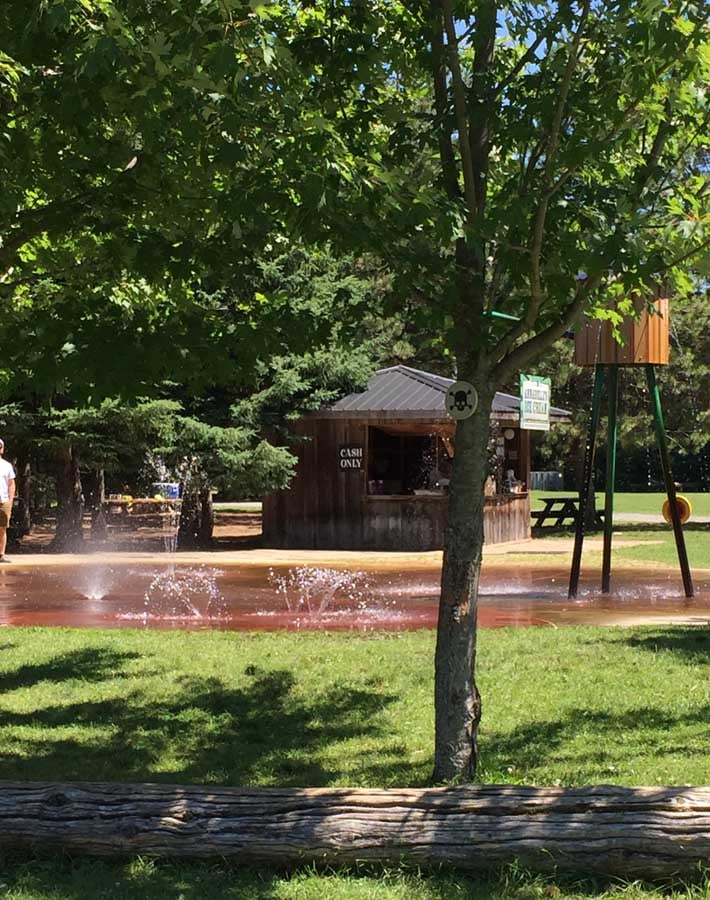 And of course, the thing Saunders Farms is most known for:
There are several and we tried a few of them, but the one we could not figure out was this one, the Mile Maze. We were in there for what seemed like ages! But it was so much fun.
There is an on-site restaurant where we grabbed lunch; and there is also an ice cream hut and a bakery to grab some treats before you head home.
What you will love about Saunders Farm is how enjoyable it is for the parents too, not just the kids. If you're looking for something fun to do with your kids, this is definitely an option I recommend.
As we were leaving, my kids asked when we could go again. Saunders Farm is well-known for their day and night Halloween experiences, so we're hoping to get out there to check them out in the fall.
It was so much fun to do something that was new to us and we hope to squeeze a few more experiences like this in before the summer ends.