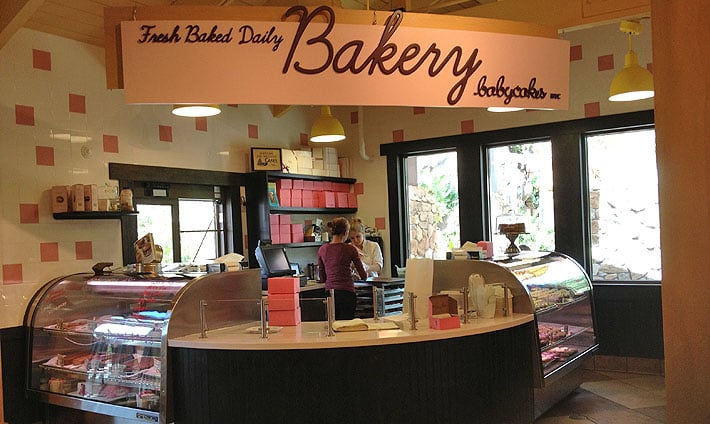 While scrolling through my Instagram feed today, I noticed an interesting picture from the Disney Food Blog:
My year has been made.
But let's back up a bit to understand why this is the best thing I've heard in a while.
You see, this is one of my favourite bakeries. Ever.
But last year, as part of the redevelopment of the Downtown Disney area, BabyCakes and a few other spots were closed down. There was no news as to whether or not it would re-open at some point or if it would get a new location. I thought that was it because there was never any news of a new location. But then I saw a story on the Disney Food Blog not long ago that hinted at BabyCakes getting a new location. And that rumour turned out to be true.
Downtown Disney BabyCakes Is Back!
BabyCakes, as it was once called, has now been re-branded to be called "Erin McKenna's Bakery NYC." But it will always be BabyCakes to me. Erin McKenna is the very smart girl behind the bakery.
From the Erin McKenna's Bakery NYC website:
"…we focus on the underserved—people with gluten, dairy, egg, and soy sensitivities, the health-minded, and, most importantly, allergic kids who are often unable to indulge.
We select all ingredients responsibly and use our natural sweeteners sparingly. Our goal is to make eating vegan and gluten-free fun and delicious, and we're very glad to have you with us."
What's not to love about that. Not only are all their products vegan, but they are also gluten-free, allergy-friendly, and delicious x 9000. Kids who have never been able to walk into a bakery and choose whatever treat they wanted can actually do that when they visit this place. (For those with nut allergies, read this info: http://www.erinmckennasbakery.com/allergy-info/)
On our first family trip to Disney a few years ago, I made too many a few trips to the BabyCakes Downtown Disney location. Every time I went in, the same guy happened to be working. He must have thought I was crazy for all the visits but the thing that sealed the crazy deal was when I went back on my last day to order a pretty pink box of assorted things to hand-carry back home on the plane with me. What? They are THAT good.
This is me on that last visit choosing what I wanted to bring home. The guy is probably hiding in the farthest corner he could find. Because baked-goods-obsessed-crazy-lady lady was visiting for the 622nd time in 1 week. (sorry for the not-so-great picture quality)
This picture is a few years old and after uploading it here, it's the first time I noticed how I have my hand lovingly placed on the glass case. OMG. See? Baked-goods-obsessed-crazy-lady. But seriously, this place is that amazing. You won't even be able to tell your treat is vegan and gluten-free.
According to the Disney Food Blog, the bakery reopens in Disney Springs (formerly Downtown Disney) on February 22, 2015 over on the Landing side (formerly the Pleasure Island side).
If you are planning a trip to Disney World and have dietary restrictions or allergies, then you must visit. And if you don't have dietary restrictions, you must visit.
For all the info and to see some pics of the new building, head on over to the Disney Food Blog's article: News! Erin McKenna's Bakery Signage Up in Downtown Disney (BabyCakes is Back!)
UPDATE 1 : The Disney Food Blog was there for Babycakes' return to Downtown Disney and have have posted a review and lots of pics of the new location. –> News! And Review: Erin McKenna's Bakery NYC (BabyCakes!) Opens in Disney Springs
UPDATE 2: I had a chance to visit the new location on our Disney last trip! Read all about it here.