When I was little, date squares were not on my favourites list (anything with dates, really), but as I got older, I started to appreciate them more. They were still not on my list of faves, but I enjoyed them every now and then. Fast forward to today, and these Date Coconut Squares are definitely on my favourites list—mostly because of the slight makeover I gave them.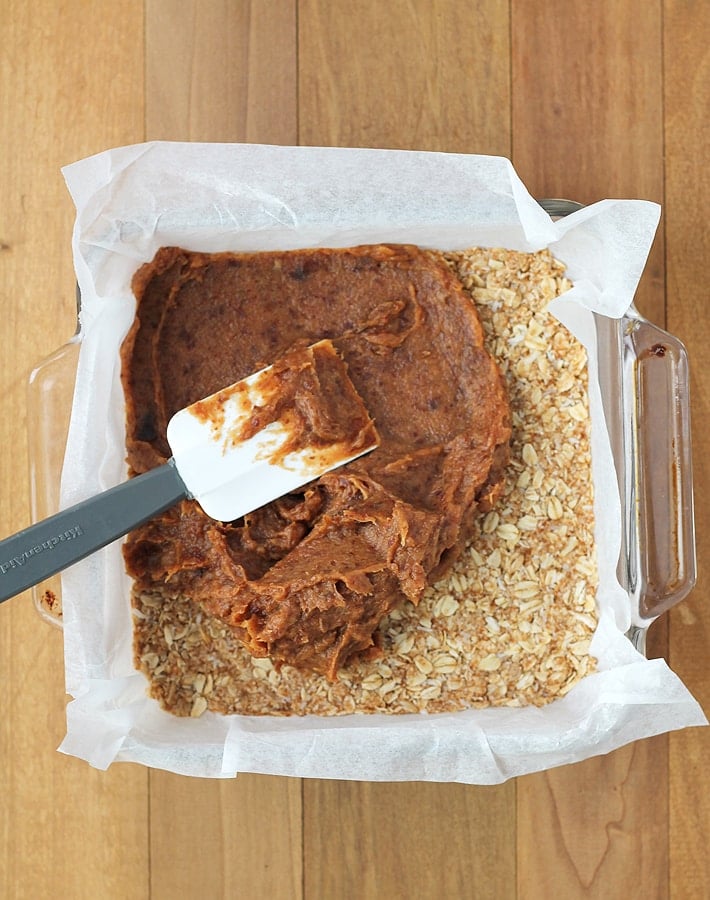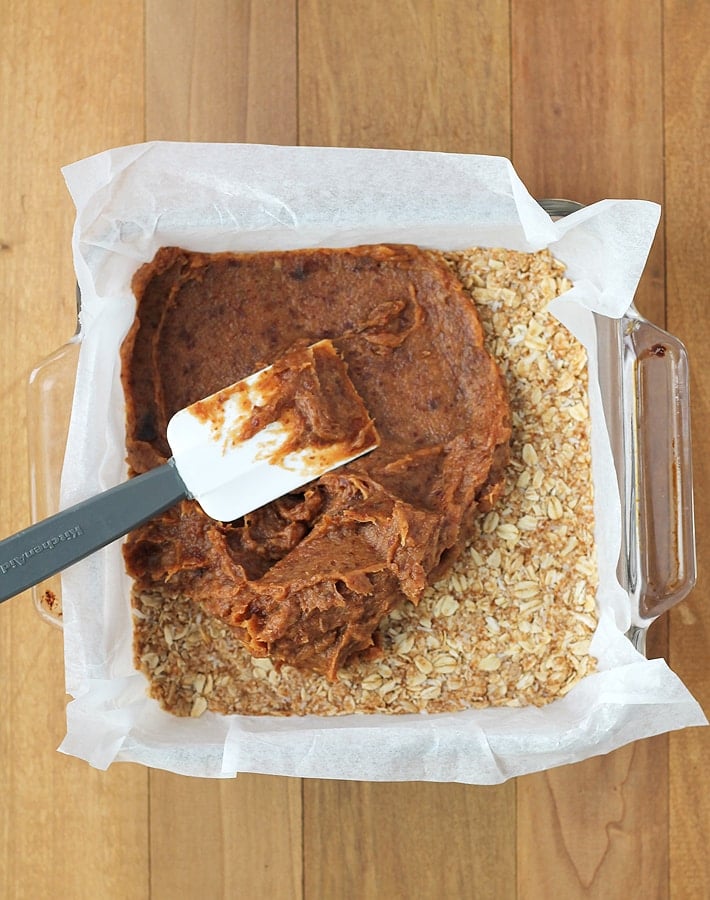 Traditional date square ingredients are quite basic. Flour, oats, dates, sugar, and butter. My Date Coconut Squares have all those things (oat flour instead of white flour and coconut oil instead of butter), PLUS, the also have coconut flour, shredded coconut and a few other little changes. On top of that, they're vegan and gluten-free (if you use gluten-free oats and oat flour).
Despite the few extra ingredients, they come together quickly and are very easy to make. They make for a great snack (school snacks too if your kids like dates!) or a sweet companion for tea.
They also pack up nicely for picnics and road trip snacks. You know, since summer is right around the corner! These squares also freeze well if you want to save some for later.
They're crumbly, gooey, just the right amount of sweet, and I hope you love them.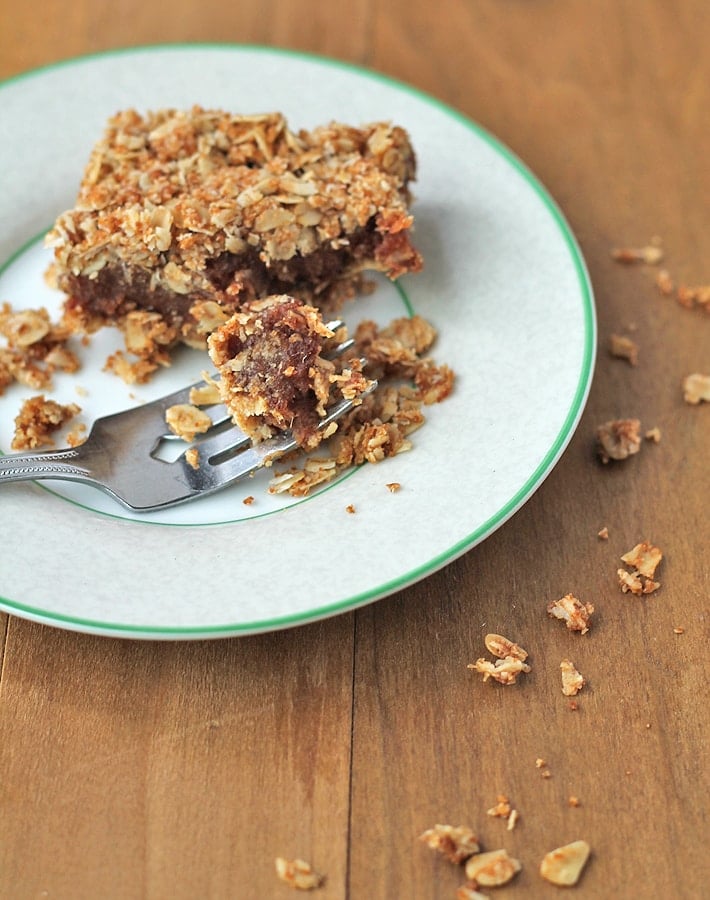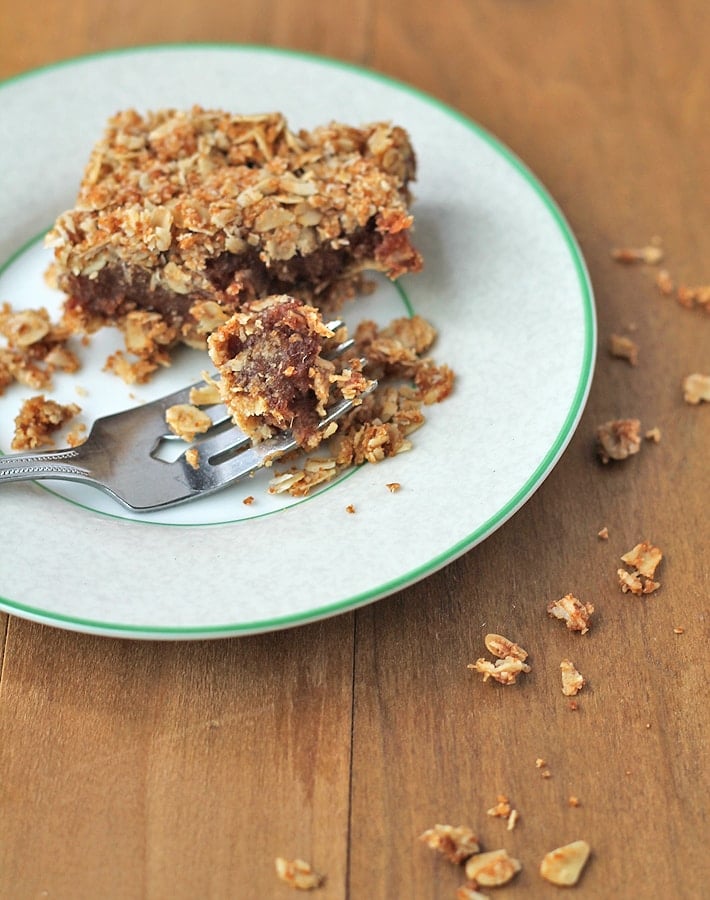 Oh, and I mentioned above that I didn't want anything to do with dates when I was younger. How times have changed! I now love them and I really like using them in recipes. Like in my Walnut Coconut Hemp Seed Bites recipe.
And if you make these Date Coconut Squares, take a pic and tag me on Instagram! I'd love to see! You're already following me on Instagram, right? 🙂
This page contains affiliate links. Click to learn more.
How to Make Date Coconut Squares
Print Recipe
Date Coconut Squares
Add a little twist to traditional date squares with these Date Coconut Squares! Not only do they contain coconut, they're also vegan and gluten free!
Ingredients:
Date filling
2

cups

pitted medjool dates

hot water

1/2

tsp

vanilla

pinch of salt
Instructions
Preheat oven to 350°F.

Line an 8x8 baking pan or dish with parchment paper. Set aside.

Place the pitted dates into a large bowl and add hot water until the dates are covered. Let sit to soften for 10 minutes.

Add oat flour and coconut flour to a medium-sized bowl.

Add coconut oil and using a pastry cutter, cut coconut oil into oat and coconut flour mixture until mixture is crumbly.

Add rolled oats, shredded coconut, coconut sugar, ground cinnamon, and baking soda and mix until everything is combined.

Remove 1/3 of the mixture and set aside.

Add the remaining 2/3 of the mixture to the parchment-lined dish and press down firmly until it is solid and there are no crumbly bits left.

Pour away the water from the bowl holding the dates and add the dates to a food processor. Process until smooth.

Add the vanilla and the pinch of salt. Mix again to combine.

Gently spread the date mixture onto the top of the crust with a rubber spatula.

Sprinkle the remaining 1/3 of the crumble mixture on top of the date layer and gently press down so the crumble sticks to the dates.

Bake for 30 minutes or until the top is golden brown.

Remove from the oven and place on a cooling rack to sit until cooled off before cutting.

Cut when warm and depending on how large you want your squares to be, cut into 9 or 12 squares.

Store in an airtight container for up to a week.
Recipe Notes:
For this recipe, you want your coconut oil to be quite firm, but not too firm that it can't be worked with. Do not use liquid coconut oil or coconut oil that is very soft. If yours is too soft (mine was for this recipe) measure it out into a bowl and put into the fridge or freezer for a few minutes for it to firm up before using.
Don't buy oat flour! Make it yourself! Learn how to make your own oat flour here.
Store your Coconut Date Squares in an airtight container for up to a week.
Nutrition Info:
Serving:
1
g
|
Calories:
337
kcal