August is coming to a close which sadly means, peach season is almost over. This year, I ate so many peaches, it's surprising that I'm not sick of them. The same thing happens every year, my peach gluttony knows no bounds…and I have no shame about it! Besides eating them as-is, I made quite a few peach desserts, Pickled Peaches, and now this Baked Peach Tart.
The tart almost didn't happen because my first attempt was a total flop. The tart turned out gorgeous but the taste? Not so gorgeous.
Luckily, I knew exactly what I did wrong and it was an easy fix. So here we are.
I made a little mistake with this attempt as well and you can see in the photos. It has to do with the crumble on top of the tart. I was supposed to reserve 1/4 cup of the crust mixture to sprinkle over the top but I forgot that step and didn't realize until the crust was baking. Oops.
So while the crust was baking, I whipped up a small batch (freestyle) and got the ratios wrong so the crumble on top is a little lighter than it should be in my pics. Yours will be dark like the crust. It was still delicious, though!
Baked Peach Tart is the perfect dessert to serve when you have friends or family over for a summer get-together, a BBQ, or to just hang out. And you can make it even better (yes, it's possible to make it even better!) by serving each slice with a big drop of Vanilla Bean Coconut Whipped Cream or a scoop of dairy-free ice cream. If you're feeling especially peachy, serve it with a scoop of my Coconut Peach Ice Cream. Mmmm…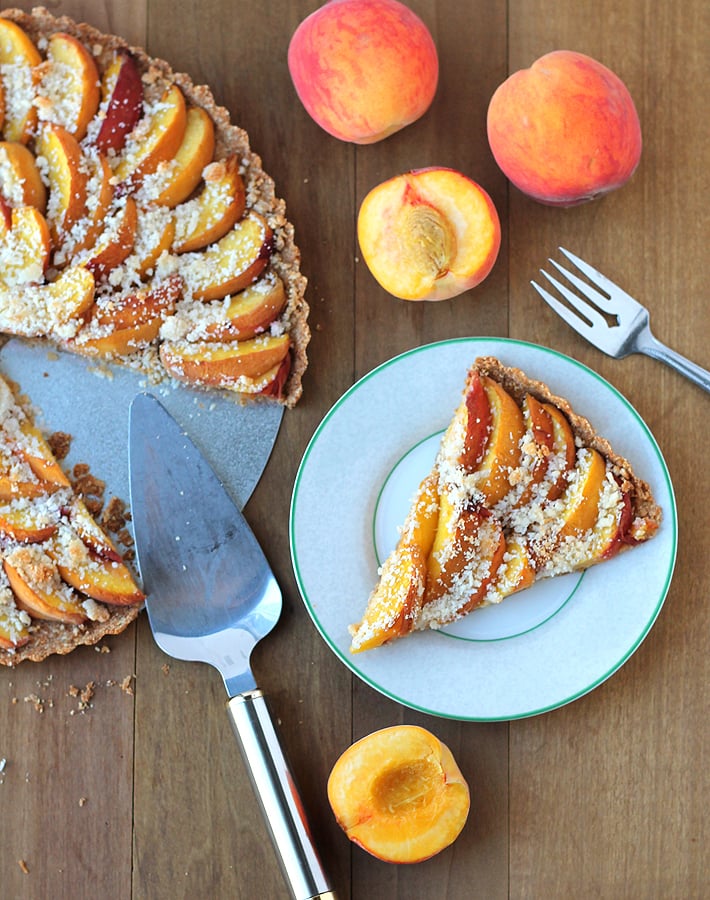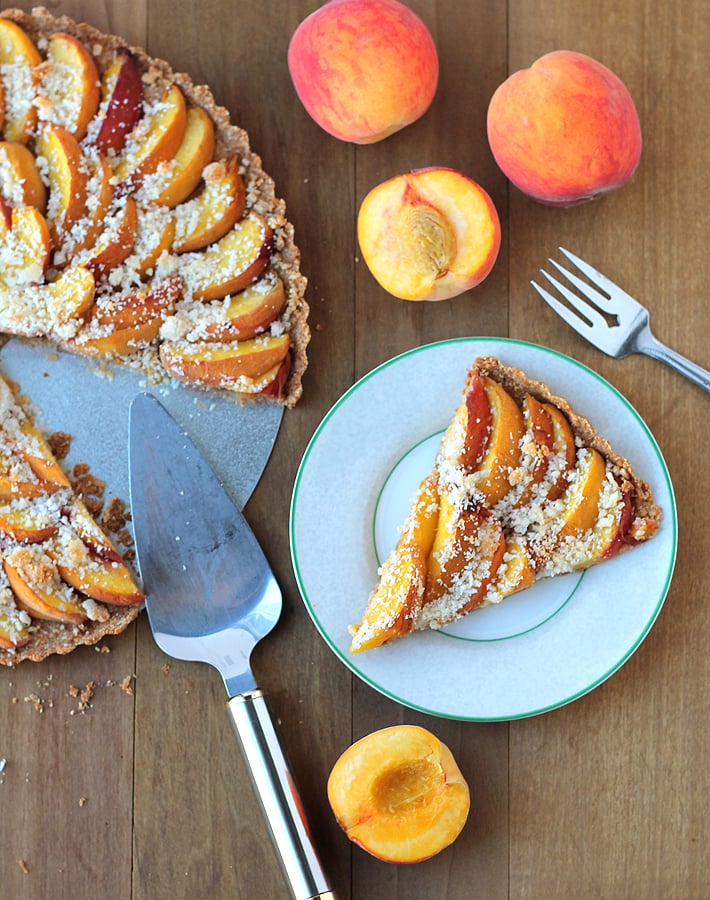 As with most crumbly crust fruit desserts, this Baked Peach Tart is best served the same day it's made because the crust will start to get soggy the longer it sits. If you do need to store some leftovers, make sure to store in something that's airtight, refrigerate it, and eat it as soon as possible while it's at its best.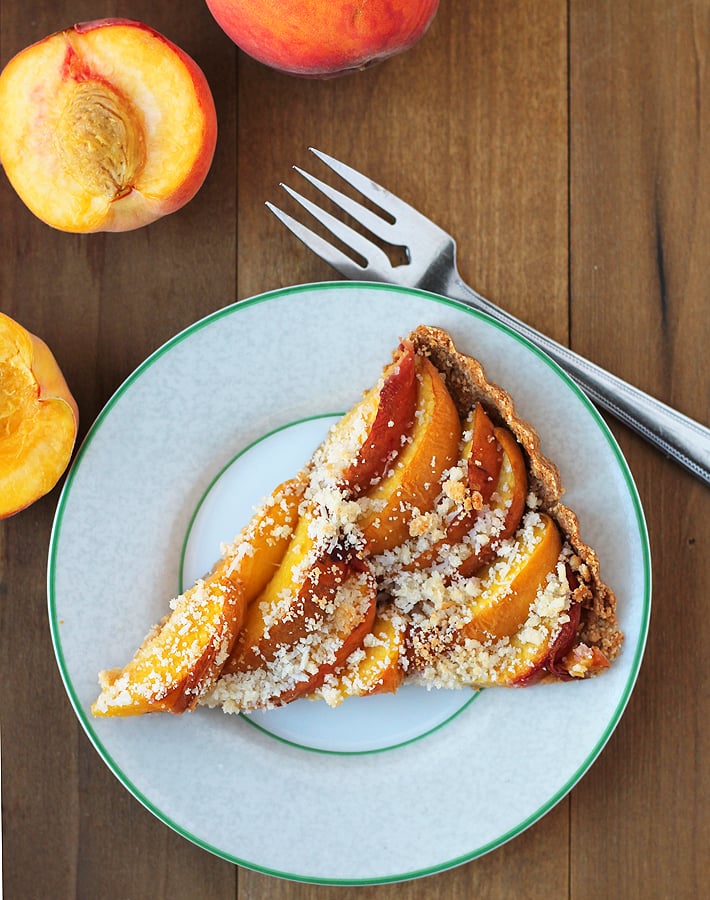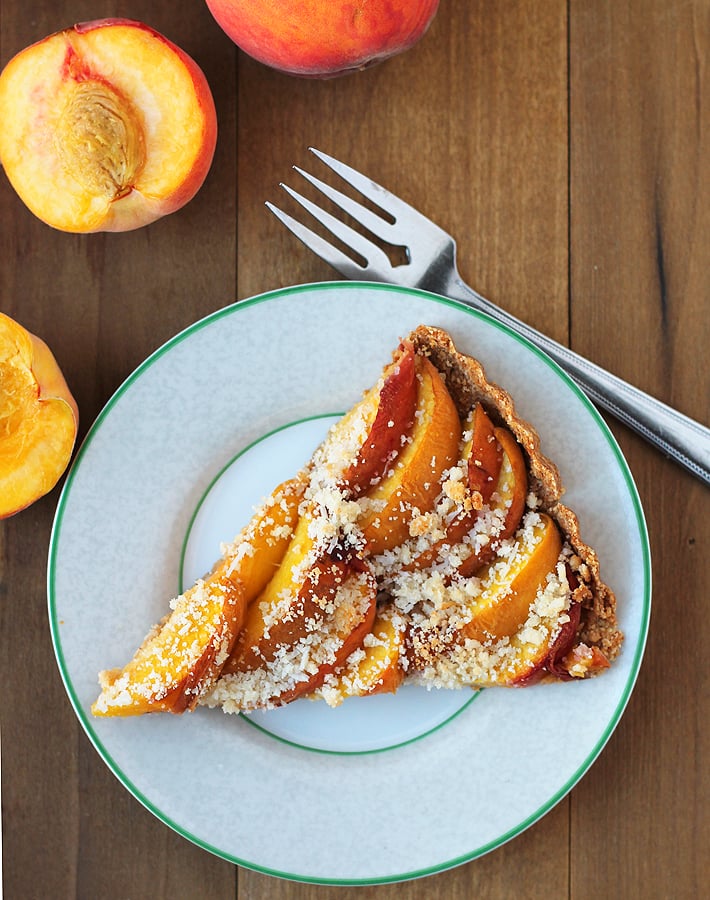 This page contains affiliate links. Click to learn more.
How to Make a Vegan Gluten Free Baked Peach Tart