August is coming to a close which sadly means, peach season is almost over. This year, I ate so many peaches, it's surprising that I'm not sick of them. The same thing happens every year, my peach gluttony knows no bounds…and I have no shame about it! Besides eating them as-is, I made quite a few peach desserts, Pickled Peaches, and now this Baked Peach Tart.
The tart almost didn't happen because my first attempt was a total flop. The tart turned out gorgeous but the taste? Not so gorgeous.
Luckily, I knew exactly what I did wrong and it was an easy fix. So here we are.
I made a little mistake with this attempt as well and you can see in the photos. It has to do with the crumble on top of the tart. I was supposed to reserve 1/4 cup of the crust mixture to sprinkle over the top but I forgot that step and didn't realize until the crust was baking. Oops.
So while the crust was baking, I whipped up a small batch (freestyle) and got the ratios wrong so the crumble on top is a little lighter than it should be in my pics. Yours will be dark like the crust. It was still delicious, though!
Baked Peach Tart is the perfect dessert to serve when you have friends or family over for a summer get-together, a BBQ, or to just hang out. And you can make it even better (yes, it's possible to make it even better!) by serving each slice with a big drop of Vanilla Bean Coconut Whipped Cream or a scoop of dairy-free ice cream. If you're feeling especially peachy, serve it with a scoop of my Coconut Peach Ice Cream. Mmmm…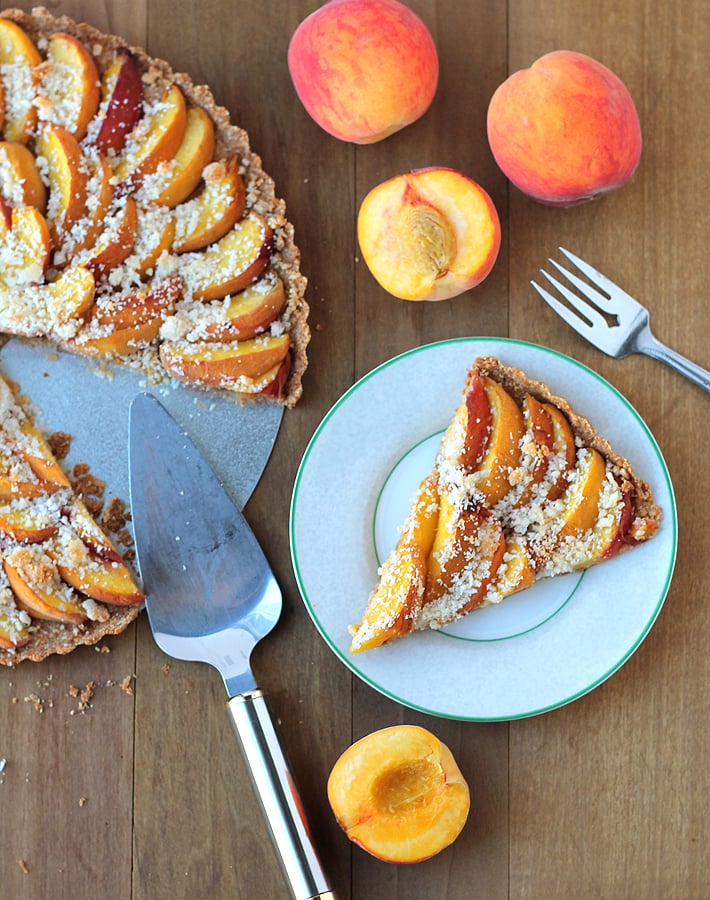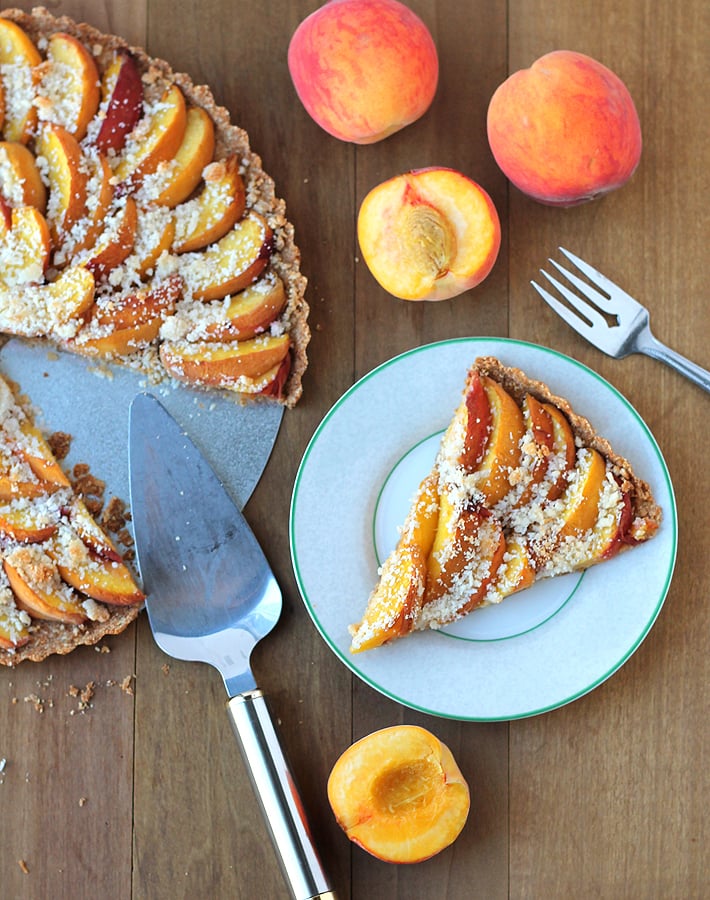 As with most crumbly crust fruit desserts, this Baked Peach Tart is best served the same day it's made because the crust will start to get soggy the longer it sits. If you do need to store some leftovers, make sure to store in something that's airtight, refrigerate it, and eat it as soon as possible while it's at its best.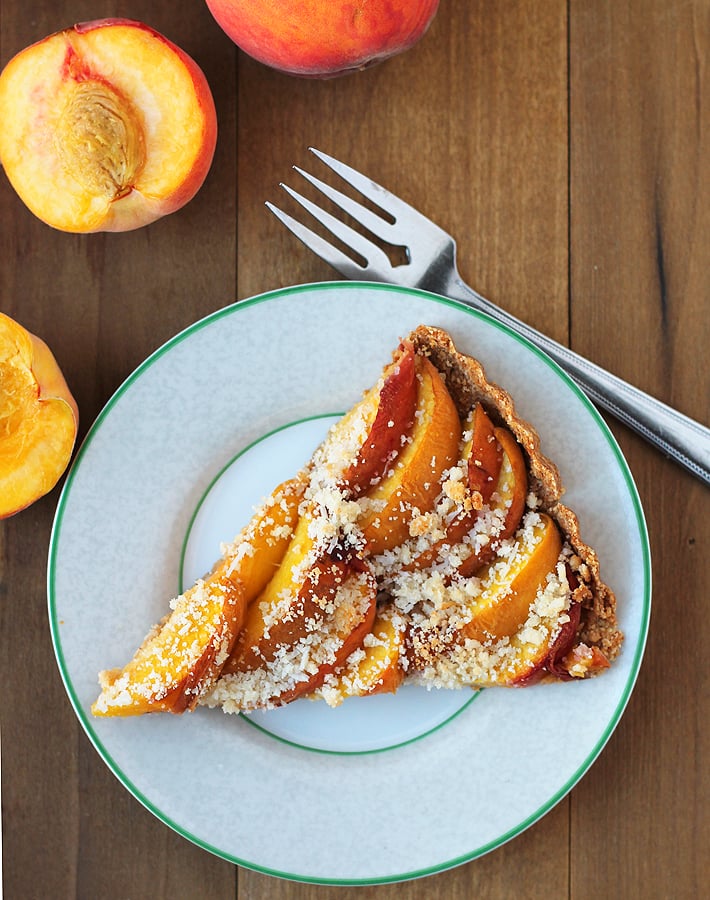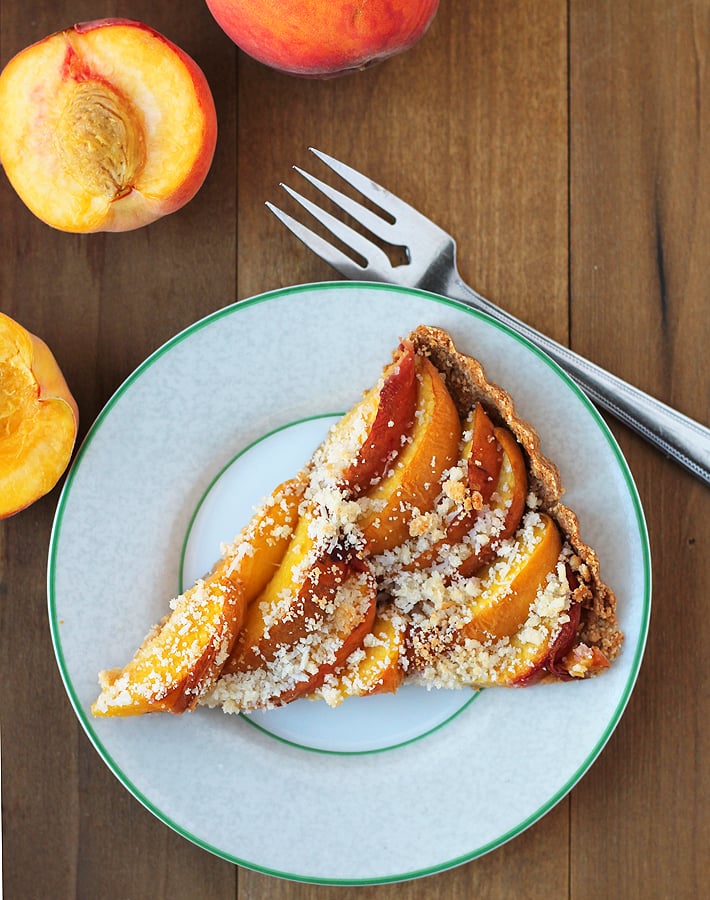 This page contains affiliate links. Click to learn more.
How to Make a Vegan Gluten Free Baked Peach Tart
Baked Peach Tart (Vegan + GF)
This light and not too sweet, vegan gluten-free baked peach tart is the perfect summer dessert to make and share with friends and family.
Cuisine:
Gluten-Free, Vegan
Ingredients
1 1/2

cups

almond flour

1/2

cup

coconut flour

1/4

cup

unsweetened shredded coconut

2

tbsp

soft coconut oil

1/4

tsp

salt

2

tbsp

pure maple syrup

1/2

tsp

cinnamon

4-5

large ripe peaches
Instructions
Pre-heat oven to 350F.

Add the almond flour, coconut flour, shredded coconut, salt, cinnamon, coconut oil and maple syrup to a medium-sized bowl.

Blend mixture using a pastry cutter until all ingredients have blended together and looks like course sand.

Reserve 1/4 cup on the mixture.

Pour the remaining mixture into a 10" tart pan (with a removable bottom) and press onto the bottom and as far up the sides as you can get.

Bake crust for 15-20 minutes or until golden.

While crust is baking, wash and slice peaches into 1/2" slices.

When crust is finished, let cool for about 10 minutes.

When crust has cooled, arrange peach slices however you'd like on top of the crust.

Sprinkle reserved crust mixture on top of the tart.

Place back into oven and bake for 30 minutes or until crumble is golden.

Remove from oven and let cool before slicing.
Recipe Notes
Your crumble is going to look a lot darker than mine does in the pictures. It will look just like your crust when it's done baking.
This tart is best served the same day it's made. So eat up 🙂
Calorie count is based on the tart being divided into 10 slices.
Nutrition Facts
Baked Peach Tart (Vegan + GF)
Amount Per Serving
Calories 186
* Percent Daily Values are based on a 2000 calorie diet.