When you stay at a Walt Disney World Resort Hotel, there is this thing they say to you when you first arrive (and any other time you walk through the front doors). They say "Welcome Home."
We've stayed onsite at Disney a few times and at each resort, cast members have always greeted us with "Welcome Home." I get why they say this, it's just one of the many sweet, pixie-dusted things you'll experience when you stay onsite. But I never felt like I was "home." The resorts we've stayed at in the past were excellent, but I never really had that "home away from home" feeling.
Until now.
It's been a few weeks since we've returned from our most recent Disney trip (the Disney hangover is still working its way out of our systems!), but I'm ready to tell you all about my new favourite Disney resort: Disney's Port Orleans Resort – French Quarter.
If you're trying to decide which hotel to choose (it's a hard decision, I know!) these are the reasons why I love Port Orleans French Quarter and why I think you will too. This post is very picture heavy, but once you are done, I think (hope!) that it will help your decision.
1. Its Size
Port Orleans French Quarter is Walt Disney World's smallest onsite hotel, so anything you need is within a very short walk, no matter which building you're in. We stayed in building 2, which is one of the furthest from the main lobby but it's still very close.
Disney Port Orleans Resort-Riverside and the Disney Port Orleans Resort-French Quarter are "sister" resorts, so you are permitted to enjoy all the amenities over there as well. You can get to Riverside by foot on the pathway or take the ferryboat during designated times. (We've also stayed at Disney Port Orleans Resort-Riverside resort in the past, it was also excellent)
Despite its small size, French Quarter has everything you need, including a store, Jackson Square Gifts & Desires, where you can stock up on necessities you forgot to pack, snacks for your room, souvenirs, and more.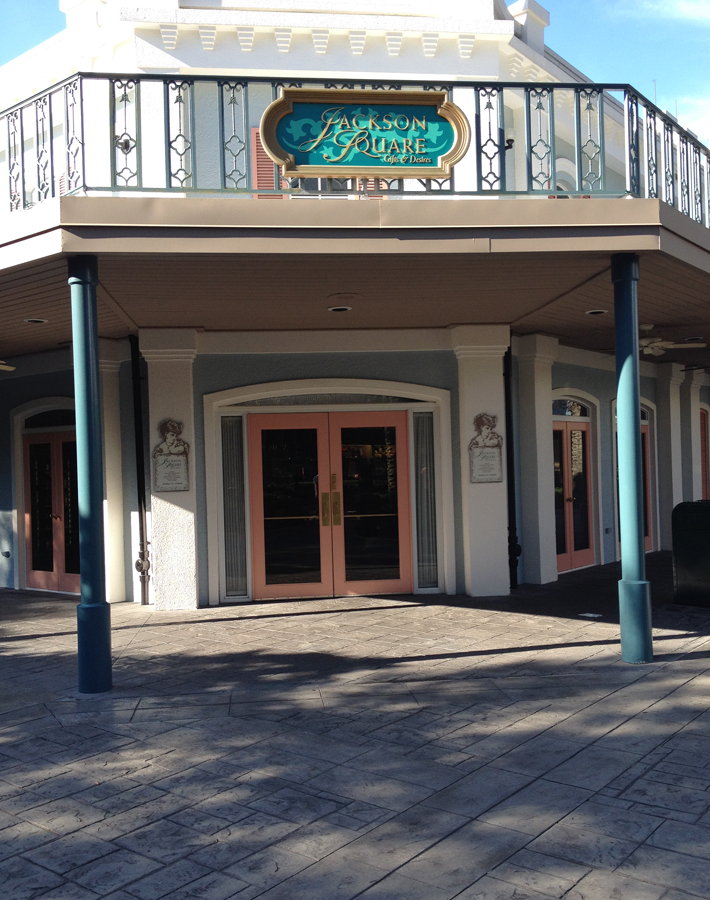 2. The Theming/"Feel" of the Port Orleans French Quarter resort
From the moment you set foot on French Quarter property, you feel like you've been transported to New Orleans. From the New Orleans Jazz always playing in the background, the cobble stoned streets, to the Mardi Gras characters, Port Orleans French Quarter does a nice job of being a stand-in for the real thing.
A feature that's really well done is how all the walkways each have their own New Orleans themed street sign:
Port Orleans French Quarter also has a walking and running trail you can enjoy if you want to take an early morning or evening walk or run. The landscaping at the hotel is pretty and meticulously maintained. Each morning as we were heading out, we saw crews working to keep everything beautiful.
On the walkway to the Doubloon Lagoon pool area from the main lobby, you are greeted by a group of band alligators:
Then, when you arrive at Doubloon Lagoon, you won't be disappointed in the theming over there too. Your kids will LOVE this area because of the daily cast member led activities, slides, the fun characters, and spraying features. You'll love everything too!
This picture does not do the pool area justice. It's quite large and has many more features. (I didn't want to make anyone uncomfortable taking pics while they were in the pool). To see some great shots of the pool, browse through the French Quarter section of the Walt Disney World website.
3. The Ferryboat Service from Port Orleans French Quarter to Disney Springs
When we stayed at Disney's Port Orleans Resort – Riverside a few years ago, this was an amenity we fell in love with. Luckily, it's also offered at Port Orleans French Quarter.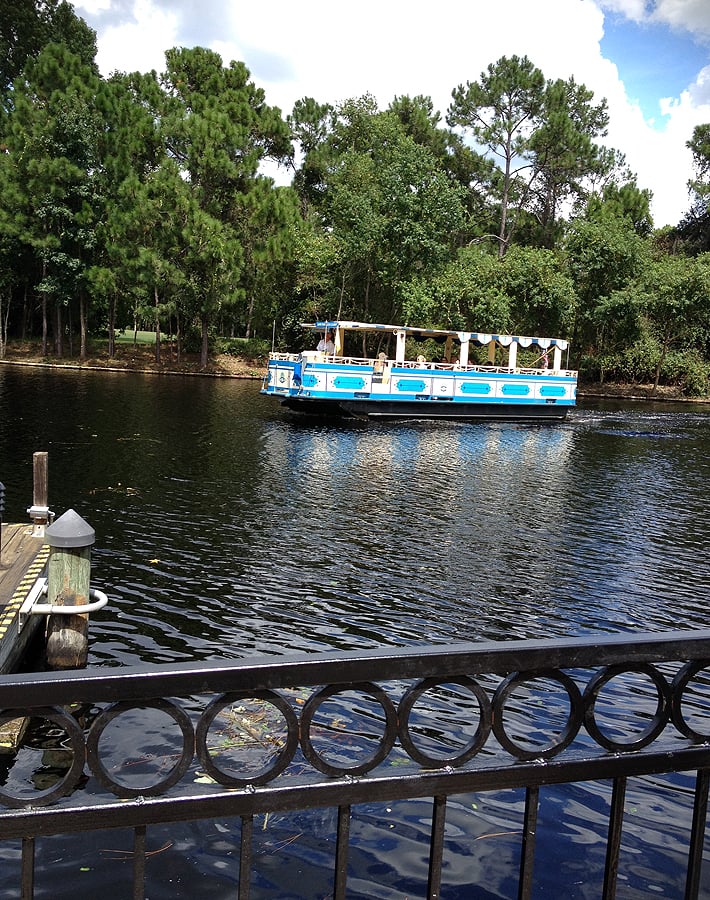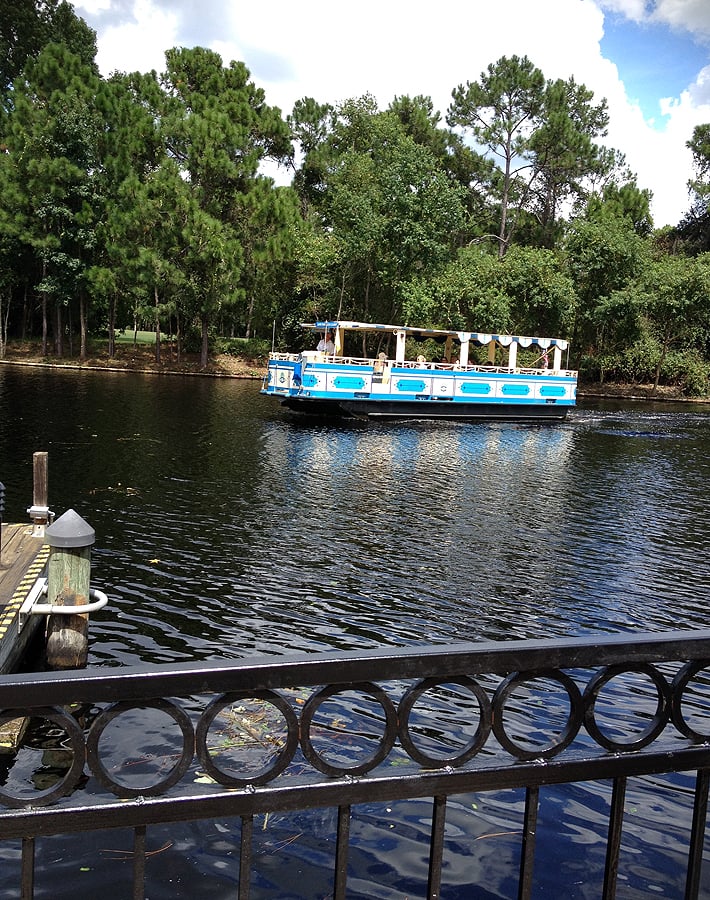 The ferryboat shows up every 20-minutes and takes you on a slow cruise down the Sassagoula River to the Disney Springs Resort area (formerly Downtown Disney Resort Area) , a place we love!
Taking the ferryboat beats waiting for a bus. You get to relax while enjoying the scenery (the ride last about 20 minutes or so)…and maybe you'll learn a thing or two!
Another bonus: Depending on who is driving the ferryboat, he may share interesting facts about Disney history, the resort, the hotel…anything Disney related over the loudspeaker during your ride.
I learned a few new things on our last trip. Like why the water in a part of the Sassagoula river looks like this:
So why does a part of the Sassagoula River water look like that? It's because of the trees that line the sides of the river. Those trees are called Cypress Trees and their roots produce tannin that runs into the river. Simple as that!
P.S. When you go to Disney Springs, be sure to visit Erin McKenna's Bakery NYC!
4. The Food
Of course, the food 🙂
When traveling, food is a big deal to me. It has to be good, no exceptions. Port Orleans French Quarter did not disappoint. On site, you will find the Sassagoula Floatworks & Food Factory.
Anything you want, you will find it here. There are several stations to choose from and you'll find everything from healthy options, decadent desserts, standard American fare, to Cajun and Louisiana comfort foods, even grab-and-go drinks and snacks — it's all here. Port Orleans French Quarter does not have a table service restaurant, so if you're looking for table service and you don't want to travel far, hop on the ferryboat to Disney Springs or walk over to Port Orleans Riverside to enjoy Boatright's Dining Hall.
The excellent theming trickles into the food court. I didn't get any great shots of the decor, but you can see a tiny bit of it in this shot:
For more pictures, have a look at the Sassagoula Floatworks gallery on the Disney website.
And I can't talk about Sassagoula Floatworks and Food Factory without mentioning the beignets, Louisiana's official state doughnut! From what I've read online, the beignets you can get here are not like authentic beignets you would get in New Orleans, but until I can get myself to New Orleans, these are a delicious stand-in! The kids love that they were able to experience a bit of the Princess and the Frog movie. If you're not familiar with it, Tiana makes beignets in her restaurant!
5. The Rooms
Again, the festive Mardi Gras theme makes an appearance in the rooms.
We stayed in a standard view room which is perfect for a family of four. There are two Queen-sized beds, double sinks, double mirrors, a TV, coffee maker, a safe, and lots of space to store and hang your clothes — everything you would expect from your hotel room and more. The rooms are cozy, the beds are comfy and it's a nice place to return to after a long, hot day at the parks.
Port Orleans French Quarter in general is a nice place to return to after a day at the parks.
Feels like home.
I'm already mentally planning our next trip and I can't wait to return.
So tell me…have you ever been to Port Orleans French Quarter? Did you love it as much as I did? Or are you trying to narrow down which hotel you'll stay at on your next Walt Disney World Vacation and Port Orleans Resort – French Quarter is on the short list?